See our case studies below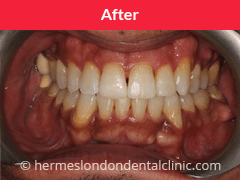 Orthodontic treatment upper and lower, followed by tooth whitening.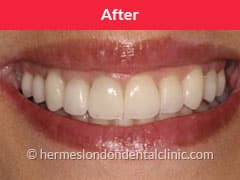 This lady had discolored and un-even worn teeth. She had a combination of tooth whitening and Emax Veneers to transform her smile.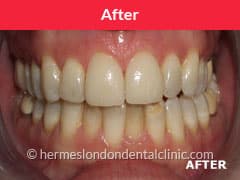 The old metal crowns on the central front teeth were replaced with Emax metal free aesthetic crowns.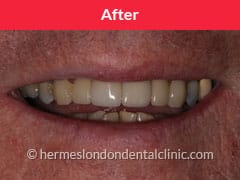 This patient had his upper front teeth missing from the age of 16 and wore dentures for over 40 years. We provided him with a combination of implant crowns and veneers. He no longer wears a removable denture, which has completely changed his life.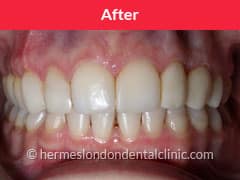 The old un-even bonded composites were removed and fresh bonded composite, non prep veneers were placed.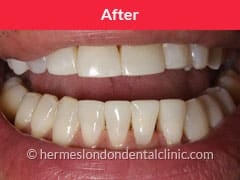 The uneven wear and discoloration was treated with a combination of tooth whitening and composite, non prep bonding.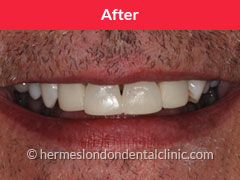 The uneven tooth wear was repaired with a combination of tooth whitening, and non prep bonding with composite.
More case studies coming soon!
I have been treated by Dr.Sehmi for over 3 years. I trust his advice and have seen a marked improvement in my teeth and gums.

Dr.Sehmi is professional and approachable as are all the staff who work at the practice.

I highly recommend Dr.Sehmi and have referred friends and family to him.
I initially went to see Dr.Sehmi through a friend, for a checkup and ended up with a brilliant new looking set of teeth!

From my very first consultation with Dr.Sehmi I felt 100% confident with him: he explained everything so clearly and precisely and in a reassuring way, I was never in any doubt that I had made the right decision to go ahead with the work he suggested to have done.

Everyone at the practice is so kind, polite and helpful and I would have no hesitation whatsoever to recommend Dr.Sehmi as an excellent dentist. I only wish I had gone sooner.
I am very happy with all aspects of the dental work that has been performed by Dr.Sehmi's clinic, from general checkups, fillings, extractions and implants.

Dr.Sehmi inspires confidence and clearly explains all aspects of the treatment as well as the alternatives.

He uses the latest up to date technology and equipment.

All his staff are friendly, welcoming and knowledgeable, putting one at ease from start to finish.

I have recommended Dr.Sehmi to friends and am happy to keep doing so.
I am quite a nervous patient, although I have no reason to be as all the staff are so friendly, helpful and above all patient!

I have had a couple of minor procedures done at Hermes Dental Clinic, one of them was to have a wisdom tooth removed. I was very anxious about the whole experience, despite reassurances that there was no reason for anything to go wrong. Once the local anesthetic had been administered, the actual tooth extraction was over in seconds.

Very speedy and with no fuss or drama at all, even so, the dentist had provided me with mobile telephone contact details in the event that any issues may arise.

I usually see Dr. Sehmi and all in all I am very impressed with the entire clinic. I am always seen on time and wouldn't hesitate to have any other treatment in the future.

I've been a patient here for a couple of years now and I am so pleased with the service that I have recommended to my Mum and she too now attends the clinic
Almost a year ago I underwent a series of treatments, including root canal work, after a bad infection on a tooth. I could not be happier with the treatment I received – not only was I treated as an emergency within 12 hours of reporting the pain I was guided through every process and fully reassured in every way.

I am partially phobic of injections and the whole team at Hermes were more than attentive which made the experience a lot less daunting.

I have also recently had an enamel replaced on one of my front teeth and I wish I had done it sooner as the result has been so pleasing.

Dr.Sehmi could not have been more kind, caring and attentive throughout both treatments!
We consider ourselves fortunate to have been treated by Dr. Parneet Sehmi. He has restored our teeth to a high standard, no easy task as they had been over treated by a previous dentist, we have not experienced any pain during our treatment.

Every visit to Dr.Sehmi clinic has been a positive experience .

He has a competent support team who are always professional and very personable.

From the moment Dr. Sehmi outlined his treatment plan to us, we were confident that we would be able to smile with pride .
My wife and I joined Hermes London Dental Clinic having had a really good dentist in Kent. We have been very pleased with Hermes. The staff are all so welcoming and you're immediately put at ease by Parneet's clear knowledge, professionalism and expertise.

If you have to have dental treatment I would highly recommend Hermes.

Whilst I'm always a brave solider, my wife Nicola is a lot more nervous, however Parneet and all the staff are always kind and sympathetic and put up with her muffled 'singing', a ploy she uses to block out the fear
A very pleasant visit and reception service, as usual Dr Parneet Sehmi was very professional, very pleased with treatment.
I am very pleased with the work that Dr Sehmi and his team carried out in replacing my front dental crowns, and equally importantly, in the care that I have received since the procedure was completed.

I am a somewhat nervous patient, but Dr Sehmi's calming manner and communication throughout the procedure assured me that at I was in good hands and would not experience any pain at all. The crowns that he selected for my front teeth were a perfect match (and it is a more complicated matter than I knew to make them look natural – it is not just about the shade!) and they really do look great.

There have been a few routine post-treatment 'teething pains' with getting my new bite aligned, but I have always felt very comfortable calling or emailing to discuss any concerns or to get advice, as I know that Dr Sehmi wants to make sure that I am happy with the work he has done. I will definitely return to get my other crowns replaced and would recommend the team at Hermes to my friends without hesitation.
I was very impressed with the standard of treatment and willingness to provide excellent hygienist care/work. The hygienists was very thorough both in clarifying my dental needs, but also actual treatment and aftercare. I would definitely recommend this practice.
I first came to the practice and was very impressed by the place and by the staff. I initially came for a dental check up and cleaning but ended up doing more than thaat. I changed some of my old fillings and will come back in the future for a crown

The dentist inspired me with his confidence, knowledge and good work. The nurses are very kind and also the receptionists. I recommend Hermes Dental Clinic and would like to thank all the staff especially Dr Sehmi for his good work