Dental Hygiene Therapist
GDC No. 170009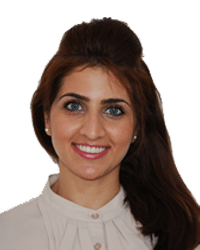 Terza qualified from University of Essex in 2011, since then she has been working in Private dental practices. During her work Terza has seen a variety of patients from different backgrounds, ages and needs; including special needs patients. This has helped her to gain a range of experiences in her career as a Dental Hygienist. She takes pride in delivering the best of care for patients and can put even the most nervous patients at ease.
Terza is very passionate about her job and it makes her feel happy to put a smile on the faces of her patients and leave the practice satisfied with our services.
Terza has been working at Hermes London Dental clinic for seven years, she enjoys educating and advising patients on the importance of maintaining their teeth and gums as this is the key factor in helping her patients to maintain their oral health and preventing gum disease.
She is very enthusiastic about her work and enjoys working as part of a team that delivers excellence while maintaining a caring and welcoming manner for all patients.
Her time outside of work is spent with family and friends and she enjoys drawing, dancing, reading, making comedian videos and travelling.
Terza's favourite quote is "Every tooth in a man's head is more valuable than a diamond".  Miguel de Cervantes, Don Quixote, 1605
Instagram: Healthygumsbyterza